PODCAST
Nutrition Secrets by Ryan Fernando Podcast
He is a nutrition coach and his only purpose is 'how can he change the way you eat for a better performance, health or life !' . He studied food biotechnology in Scotland and came back to India to change India's health !!His list of clients says it ALL !! He designs diets for Virat Kohli , Anushka Sharma , Aamir Khan , Olympic winner Sushil Kumar , Yuvraj Singh , , Shikhar Dhawan , Abhishek Bachchan and that is just the tip of iceberg. What do these celebs eat to get brilliant performances in their lives ? it's the same food … It's the same climate and bigger challenges . There is always a secret recipe to success and that's why not everyone is at the top . Find out health and food secrets with Ryan Fernando in the podcast 'Nutrition Secrets' at Red FM Podcasts.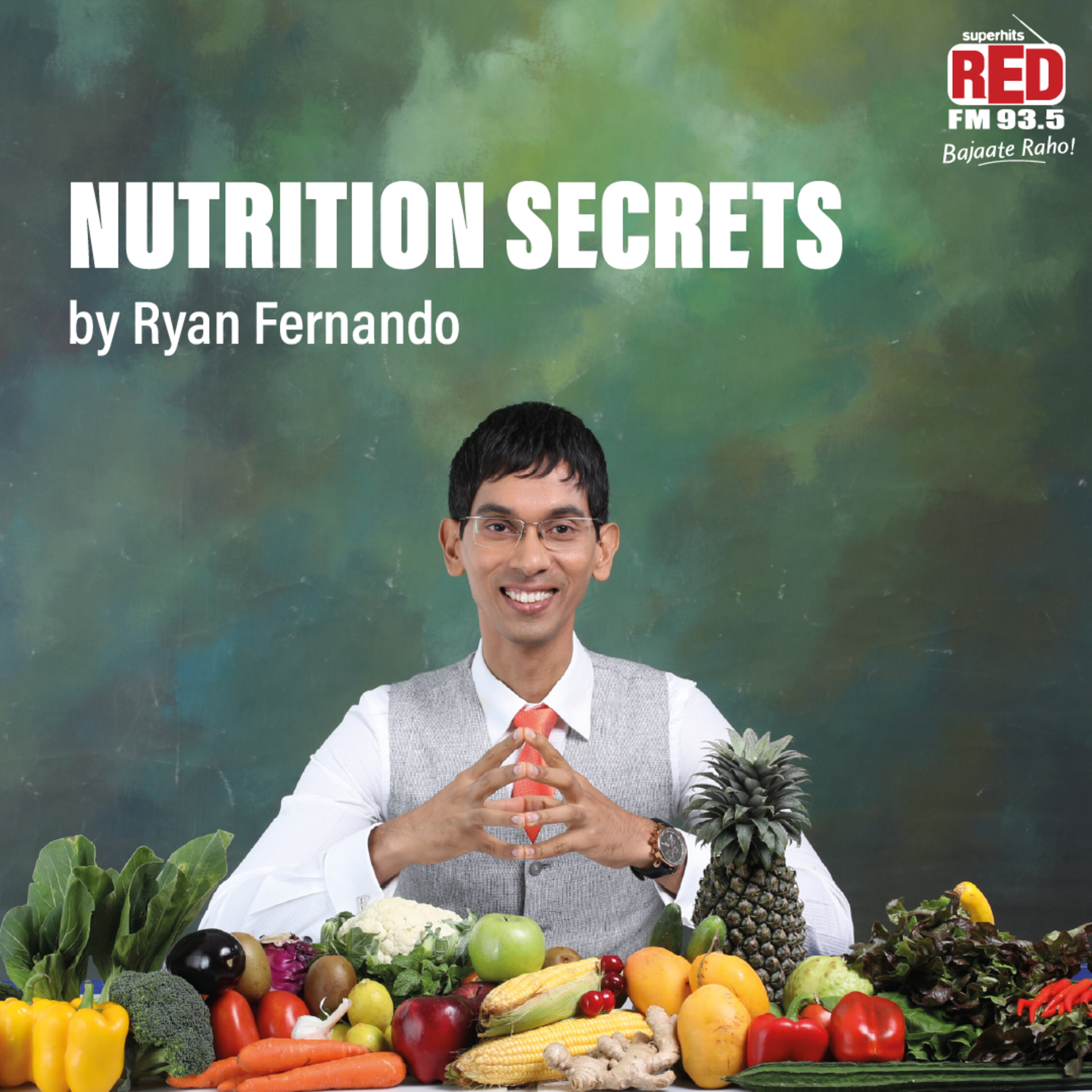 Episodes
You can listen episodes under the area!
Global warming , cruelty … is there no positive to Non Vegetarian food or is there? There are religious sentiments to consider and some health concerns too! What is the best fish to eat? Why is beef consumed? Should sushi be an option? What is the value of fresh non veg and should it be a part of your daily food group? There are many questions around non-vegetarian food and our celebrity nutritionist Ryan Fernando answers all these questions in this episode. Meet our celebrity guest Urmi Boruah who is a fitness trainer, mother of an 18 year old and a pageant winner talk about her fitness journey and how its possible to lose weight at home without any equipment via online xlcasses!  She looks fit and fab and will inspire you to believe anything is possible! Tune into Nutrition Secrets on the RedFM India App and all leading platforms. See omnystudio.com/listener for privacy information.


In this episode Ryan, our celebrity nutritionist is torn between Ryan the health consultant and Ryan the common man. The ideal healthy lifexstyle is difficult to follow in today's times where many deals are struck professionally, dating, friends catching up, and basically, life seems to happen over a drink! The drink could be an alcoholic beverage or a simple coffee and they both pose a health risk depending on the state of your body. Do choices need to be so hard? Can we strike a balance? While Ryan strictly advocates an alcohol-free lifexstyle, tune into the podcast and listen to a few solutions that will guide you to how to integrate health and habits and still be happy! See omnystudio.com/listener for privacy information.


Eat Chocolate! Not 1 piece but more! It's the best antioxidant- Has your dietician ever said this to you? chocolate can save your life (we always knew that !!). No food is bad or good and can even help in building immunity and help lose weight. Be its salt or even chocolate! Throw away the salt shaker but not the salt and reduce your hypertension! Eat and be merry! How much is the key to unlock the door to great health and happy taste buds? Find out how you can continue your affair with chocolate and salt and still be healthy, wealthy and wise with celeb nutritionist Ryan Fernando in the podcast Nutrition Secrets on the RedFM India app and other leading platforms! See omnystudio.com/listener for privacy information.


It's a world of Information overload! The most basic ingredients we consume daily have so many layers to them that have raised questions like is milk good? What type of milk is good? Is fat-free milk good? Lactose-free milk recommended? Low fat, toned, double toned, skimmed milk, organic milk, raw milk? Even something as simple and basic like milk has become a matter of life or death! How much oil to put? Which one to put? What if I have a heart condition? What if I have to cook for 4 .. then how much should I put? Many questions will be answered in Andar ki Baat episode with our Celeb Nutritionist Ryan Fernando who will unlock the secret to great health and weight loss that celebrities swear by! See omnystudio.com/listener for privacy information.


We are thrilled and happy that our dear Podcaster – celebrity nutritionist Ryan Fernando is back with a bang and has beaten COVID-19 hands down to be with us again! This is a very personal podcast episode where he shares his battle with COVID-19, what he went through emotionally, physically and how he dealt with this much-feared disease. He has made discoveries while navigating himself through it. what did our FAVORITE nutritionist do and how did this change him? Well for one if you are suffering from COVID-19 you can contact Qua Nutrition and get free advise on how to beat it. Listen to Ryan share his experience and let's celebrate his win !!  If you believe this was not enough. We have a surprise guest in the episode yoga expert, Bigg Boss contestant and Dada Saheb Phalke academy Excellence winner sharing his secrets of yoga and fitness to help you sail through this pandemic with positivity and strength! Nutrition Secrets on Red Podcasts and all other leading platforms. Download now! See omnystudio.com/listener for privacy information.


The world is in a state of mayhem and never has mankind faced such an onslaught. All of us are in a state of anxiety regarding COVID. With innumerable diets to protect ourselves ..there are a few covid prevention specific diets that can be your staple for the next few months to remain healthy and covid free. Ryan Fernando, India's renowned and No.1 Nutritionist has taken it upon himself and QUA to share the Pandemic Grocery List. This list is straight from Ryan's files that he is using to help all his clients and wishes for this grocery list far and wide to help India get back up on her feet. This list is available on his social media accounts and hear him share the method and measure of it in the Podcast Nutrition Secrets in the episode The Pandemic Grocery List. Stalk up and let's beat the virus together !! See omnystudio.com/listener for privacy information.


Thank you for the astounding response to Nutrition Secrets with Celeb Nutritionist Ryan Fernando on RedFM Podcasts ! We have been flooded with emails demanding Season 2 . Ryan is back on Popular demand answering your queries from How do I make immediate changes to up my nutrition value , how do I manage my diet while travelling and how do I get my family involved in this process of healthy eating . Lets make 2021 your healthiest year ever !!   Achieve the glow and the flat stomach with Nutrition Secrets ! See omnystudio.com/listener for privacy information.


Its New Year and Season 2 of the superhit podcast Nutrition Secrects with Ryan Fernando ! If you have made a new year resolution to be healthy , fit and gorgeous this year then this is the podcast for you ! Nutrition Revelations will tell you why you have cravings , how many meals a day to when to eat , how to eat and how to kickstart that metabolism to a new svelte you. Joining you this week on Nutrition Secrets is actress, director , dancer , singer , producer and MD of Tseries Divya Khosla Kumar who will share with you the secret behind her glow and beauty See omnystudio.com/listener for privacy information.


Are you that select population that struggles to put on weight ? Does your girlfriend or wife to be want you to bulk up ? Does your family feed you powders relentlessly to help put on weight ? How are skinny people dealing with Corona ? Is being skinny stopping you from achieving your dreams because it eats into your confidence ? Is this actually a problem or a blessing ? is there a natural way to put on weight , look healthy , feel healthy and be your best ? Yes it is with Ryan Fernando who is india's most popular and well known nutritionist all set to hold your hand through this weight gain and weight loss journey. Go ahead and discover the secret ! See omnystudio.com/listener for privacy information.


Are you a bridezilla or just a bride ? Want to glow on your wedding day ? How do I lose weight in a week ? How should I reduce my bloating so I can fit into my wedding dress ? What beverages can I drink on the wedding day  and a few days prior ? Are there any magic foods I should eat to glow , tone up , lose weight and look like a million dollars ? How do I make my honeymoon a memorable event ? How do I deal with my in laws with regards to food habits ? How far should I push the envelope ? Get answers to all these questions and more in this special episode of nutrition secrets See omnystudio.com/listener for privacy information.