PODCAST
Place to Be Wrestling Network
The only Place to Be for great wrestling podcasts!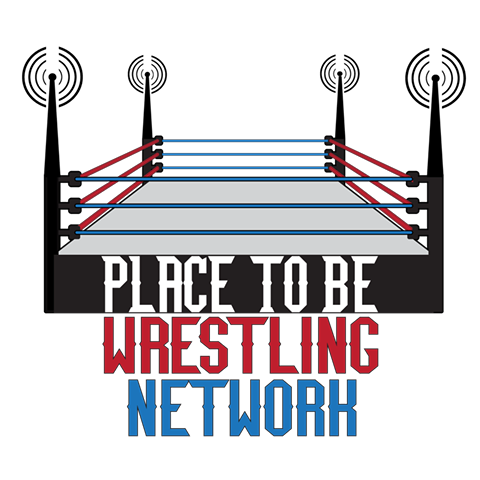 Episodes
You can listen episodes under the area!
Place To Be Nation… Welcome back and join us once again on the Highway to the Impact Zone. Join host Logan Crosland and his student Jake Williams, as they are joined by TNA experts Ben Locke and Lewis Maynard. In this episode they take a look at the March 4th and 11th episodes of Impact. They discuss topics such as: Ben's British Swamp Ass, Random Apolo Re-Debut, Dusty's Drunkeness, Michael Shane Losing His Last Name, THE Monty Promo, Blue Collar TV, Random Six Man Pairings, Really Good Kash-Styles Match, Hardy and His Binoculars, Part of The Second Episode Getting Axed, Great Value Obese Mr. Clean, Abbreviated Sabin-Daniels Match,   and much much more!
Listen and join us on this wild ride through Total Nonstop Action.
On this edition of PTBNXT, Tim, Jenny, and Jake continue their tradition of new gimmick names, then discuss NXT TV from 10/9/14, 10/16/14, and 10/23/14. The crew look at bad luck Mojo, angry Tyler Breeze, Sami looking for redemption, Titus trying to takeover, Itami's odd conflict with the Ascension, the Vaudevillians gaining momentum, Neville accepting Sami's challenge, Becky's turn, Charlotte's continued domination, the Legionnaires explode, Carmella's debut, and much more.
So set sail at Full Sail for some top tier analysis and complete nonsense because We Are PTB...NXT!
Ryan and Cindy continue their journey through the GWCW wrestler poll looking at the franchise of WCW, the Man Called Sting! They talk about Sting's early days, his arrival into WCW and take a close look at his feud with Ric Flair. The pair also discuss Sting's feuds with the Great Muta, Rick Rude and Vader, plus a unique match with Lord Steven Regal before finally watching the evolution of Sting into Crow Sting and the feud with the nWo. Ryan and Cindy chat about the badly fumbled Starrcade 1997 and draw comparisons to the Ultimate Warrior. Listen up, because this is STING!
RIC FLAIR VS. STING- NWA WORLD TITLE- CLASH OF THE CHAMPIONS I
RIC FLAIR VS. STING (GREAT AMERICAN BASH 1990, WORLD TITLE MATCH)
GREAT MUTA VS. STING (WCW NJPW SUPERSHOW)
STING VS. RICK RUDE (CLASH XXI, KING OF CABLE TOURNAMENT MATCH)
RIC FLAIR VS. STING (08/21/93 WCWSN; 41:12)
STING VS. RIC FLAIR (CLASH XXVII, WCW WORLD & WCW INTERNATIONAL WORLD TITLE UNIFICATION MATCH)
STING VS. LORD STEVEN REGAL (GREAT AMERICAN BASH 1996)
STING ATTACKS NWO (UNCENSORED 1997)
STING VS. DIAMOND DALLAS PAGE (WCW WORLD TITLE MATCH, 03/23/98, NITRO)
The fever is hot in this episode of the Place to Be Podcast, as Justin, Scott and Robert Hawkins are getting everyone prepped for the hottest show of the summer with a live watch of the SummerSlam Spectacular from 8/23/92!
They discuss the newest HERB KUNZE TIDBITS~!, Double Trouble, Sid getting fired, Ultimate Warrior II, Ric Flair not working SummerSlam, the odd booking of the tag team division, Mr. Perfect's big angle, the arrival of Nailz, Rocco the Dummy, Kamala returns and much more, including end of show awards!
So fire up this action-packed episode and join Scott, Justin and Robert as it's time for another edition of the PTB Podcast!
Marty Sleeze welcomes his long-time friend, his former Tag Teams Back Again (Whoomp! There It Is!) co-host, and a true Titan of Wrestling, Kelly Nelson aka Ricky Jackson on the show to discuss one of their mutually favorite times in pro wrestling, the World Wrestling Federation 1978-1987. They are discussing their picks for #25-#21 on this first of a five part series on the Best WWF Matches between 1978-1987. Marty leads off with the match that started it all! It is the match review that got Kelly's attention and had him extend the invitation to become the Teen Titan! The rest as they say is podcasting history. Kelly brings a lot of Titans of Wrestling Love on this show with Andre vs Hogan, Fuji & Saito vs Strongbows and a bloody match between Larry Z & Ivan Pustki. It is not just Titans nostalgia there is some Tag Teams Back Again (Whoomp! There It Is) nostalgia when the Can-Am Connection clashes with The Dream Team! All this and much, much more! Click the link, download, listen and keep spreading the Pro Wrestling Love!
On the newest SS, Scott & Dr. G discuss Thunder Rosa's full time signing with AEW and what it means for AEW and NWA. Then they preview the Champions Series as it begins this coming Tuesday! So sit back on this SUNDAY, and enjoy the newest episode of the SS!
Twitter: @PTBPodfather, @DrGPTB, @PTBNWrestling
**The Special Relations Trio will return with a brand new episode in August!"
On Sunday March 29th 2020 Calum, Ben and Rory broadcast a special live edition of the Special Relations to all four corners of the globe. If you weren't at one of those corners, or you just want to relive it all over again(and why wouldn't you?) join the chaps as they live watch the 22nd September 1997 edition of Monday Night RAW, spend far too long talking about King Of The Ring 1995, and maybe get visited by one or two guests...! 
In the fourth episode of Making Mt. Rushmore: Wrestling Edition, panelists Chad Campbell, Jon Keselica & Ben Locke join panelist/moderator Andy Atherton to discuss which Set-Up Moves deserve a place as on their respective lists. Is Jake Roberts' Short-Arm Clothesline a no-brainer? What about Goldberg's Spear? Will Sting's Stinger Splash grab a spot? Does Mr. Perfect's Neck Snap or Finn Balor's 1916 deserve a place? After that, they discuss which Finishing Moves will be part of that grouping. Can you argue that The Dudley Boys' 3-D shouldn't get a spot? Will Kenta Kobashi's Burning Hammer be included? Is Steve Austin's Stone Cold Stunner in the conversation? What about DDP's The Diamond Cutter & Randy Savage's Flying Elbow Drop?
Ben welcomes wrestler ACEGAWD Arik Royal to the show this week. @BigArikRoyal discusses growing up in California and the importance of Kobe Bryant, learning the ropes in North Carolina and at CWF Mid-Atlantic, and eventually becoming the @WrestleAction1 Champion heading into @SCITournament. A fun show so check it out! 
Marty Sleeze delivers another delicious slab of heavy metal with Good 'Ol Will From Texas & Ryan Victory from Chicago. Marty Sleeze attended the M3 Festival for the first time this year and regales the listeners with stories of Pretty Boy Floyd, Shitty Fake LA Guns and Warrant. Will & Ryan tell stories of heartbreak, but Will passes down knowledge to help future generations avoid the same fate. Marty sticks up for stage acrobatics of Juan Croucier (they are the whole reason to see Ratt!) against the bullies on Talk is Jericho! Will explains the meaning behind the Dangerous Toys' cult xlcassic, Scared. All this & much, much more! Click the link, download and enjoy!